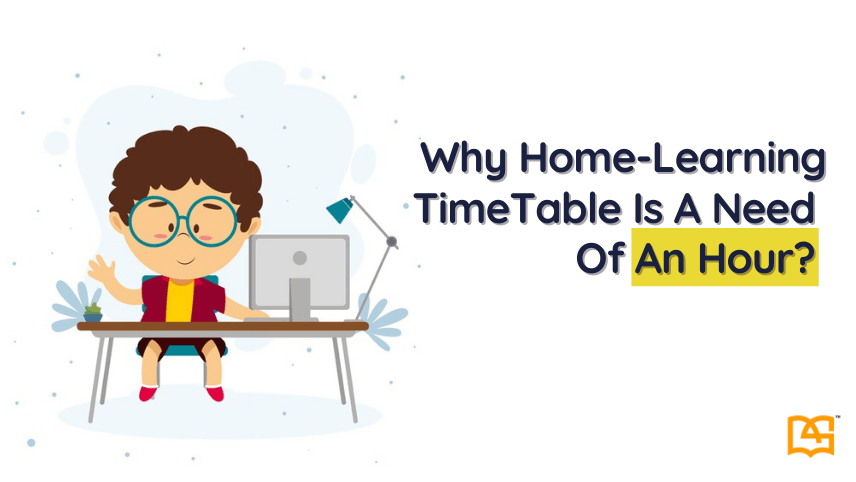 When you encourage your children for home learning assignments, one of the most important tasks is to make an effective timetable. You might think that your child would be able to handle the task on their own but that's not always possible. Ensuring that you take a few basic steps to prepare a home learning timetable can go a long way to make your child's home tuitions go smoother. Keeping an open line of communication between your child and teachers can create a positive impact on your child's learning.

But, how to design an effective home learning schedule?

Which things need to be kept in mind while designing a home-learning timetable?

Let's find the answer to the above questions in this post ahead.
What Are the Key Aspects That Needs to Be Considered Before Designing Home-Learning Timetable?
Clear communication channel between parents, children, and teachers.

Whenever you decide to design your child's home tuition timetable, the first step is to communicate with your child's teacher. Just like blended learning techniques, the combination of parents, teachers and kids' input can give a solid understanding of when and what to begin. Effective communication plays a vital role especially in the initial phase of planning a home learning timetable.

The idea behind is to start right and then the frequent communication process with the teachers would reduce once a smooth and self-sufficient learning timetable is designed.

Figure out your learning style

There are multiple types of learning styles and deciding which will dominate; helps you to create a full-proof plan that suits your learning pattern. The more you tailor it to your needs, the more you'll be able to follow throughout the home-learning period and succeed with good results.

To ensure better e-learning experience, platforms like DigiScholars have come up with multiple schools and competitive exam syllabus in multiple learning styles that help children to perform better.

Below are some of the frequently followed learning style:

● Visual learner
● Verbal learner
● Aural learner
● Logical learner
● Physical learner
● Social learners

Once you determine which learning style suits you best, you can decide when, how, and where to study.

Know your children's ability and schedule accordingly

Figuring out a home-learning plan will help you identify where your child stands in academics. Understanding your child's strengths and weaknesses can help you make further adjustments in your timetable to cover all the basics of the subjects.

Even if your child is studying with the help of online platforms like DigiScholars, it is important to know what courses they offer. A good home-learning plan should be reviewed regularly to analyze your child's progress.

Signup With DigiScholars Now and Analyze your child's progress!

Keep things fun and lighthearted

Remember that your child has been full-day to the school on weekdays and you don't need to stress them out to succeed. Make sure to keep things fun and light-hearted by keeping occasional off-beat activities. This can include setting up achievable targets and reward them with certain points after finishing goals. You can gift them things they like after the accumulation of good points.

Make sure that you allow ample free time to your children so their mind is diverted and they get back to studies with a fresh mind.

How Home-Learning Timetable Can Prove Best Alternative to Reinforce Learning?
Improves your child's focus

An effectively designed timetable helps children to stay focused and punctual. Make sure you write down the list of tasks along with the time duration. This sets up a clear objective of the day.

One of the most common reasons for procrastination is not having a clear set of objectives. A timetable prevents this by clearly defining the day's plan along with the timeline and help children to stay focused.

Learning at their own pace

There are multiple online platforms that allow children to attend online classes. But what makes DigiScholars stand apart from other platforms in this space is, it allows students to access learning material anytime and anywhere. Its syllabus wise chapter videos and other supporting study materials allow children to learn at their own pace without adding extra pressure to keep up with the rest of the class.

This allows children to focus on the topic they struggle with and further strengthen it.

Build Regular learning rhythm

Following a home learning timetable will help your children to study in the discipline. Online research papers show that following a regular study routine can help you retain what you have studied so far. It also eliminates last-minute exam anxiety, cramming and promotes healthier sleep.

You can even make a habit to practice your syllabus by solving mock exams and test papers with the DigiScholars app.

Download DigiScholars App Now!

Leverage enough time for non-academic pursuits

Effective home learning with the help of online tutors can save a lot of time for your children. Without the hassle to commute to tuitions, online education frees up your children's schedule for other non-academic activities. This could be anything; learning to play a guitar, drawing, skating or anything that interests your child.

Learning at their own comfort

Learning in your comfort zone can have certain advantages. There's no need to ask for bathroom breaks, snacks interval, uncomfortable seating positions and the noise surrounding the school environment. Your child can focus on his studies and learn at his time and comfort place.

Home Learning Timetable- More than just academics!

Homeschooling is much more than academics. Apart from studies, it also has other potential benefits for students such as:
Improved mental health
Benefits in physical health
Indulgence in extra-curricular activities
Improved balance and focus
Benefits in Social development
And of course, homeschooling benefits for parents too.

Apart from these benefits, virtual learning platforms like DigiScholars help students to get acquainted with their syllabus in a fun and easy way.

If you still haven't tuned-in to any virtual platform, Download DigiScholars App now and educate your children.